How to reach Porto Venere
Regrettably, it is impossible to reach Porto Venere by train and consequently, tourists can either go by boat, bus, car or on foot. This last mode may be the most exciting, though the most time-consuming.
At first, you need to reach any of the cities close to Porto Venere: La Spezia, Riomaggiore or Monterosso. Next, you need to select among the four available modes of travelling to Porto Venere.
1. Bus 11/P from La Spezia to Porto Venere.
Bus is the most economical mode of transport to Porto Venere, the fare is just 3 euros. You need to buy a ticket prior to your trip; tickets are normally sold in Tabaccheria (tobacco shop) and in specially dedicated kiosks. If you are unable to purchase tickets in advance, you can buy them directly from bus driver, however the price will then be twice as expensive.
Duration of the trip is very short, less than half an hour.

Buses run frequently to Porto Venere, about every 20 minutes from 5 a.m. to 11 p.m. on weekdays, while on weekends and vacations, every 20 to 30 minutes from 7 a.m. to 11 p.m.
After 8 p.m. buses run once every hour, whereas on 25-26th December and on 01st January, every 20 minutes from 8 a.m. to 12 p.m. and from 3 p.m. to 8 p.m.
You can quickly get to the bus stop on foot from the railway station. In the map the route is shown by a green line.

Remember that the road to Porto Venere is quite zigzag, so if you suffer from travel sickness, it is better to choose other mode of travel, such as boat.
The article was last updated in November, 2023.
2. Boat ride to Porto Venere.
Click on the picture on the side to see the motor-ship schedule. Closer to summer, their number increases gradually, however regrettably, the company does not release new schedule until the first one expires.

The company Consorzio Marittimo Turistico: Best Of Cinque Terre operates motor-ships even to other cities of Liguria. You can find a detailed motor-ship schedule and the boat routes on the company's website.
Ferry schedule in Cinque Terre and Porto Venere for 2023: 25 March 2023 - 1 November 2023.
Ferry schedule in Cinque Terre and Porto Venere for 2024: 23 March 2024 - 3 November 2024.

The article was last updated on November 24, 2023.
Boat ride to Porto Venere from La Spezia.
Boats to Porto Venere depart regularly from the port in La Spezia. The pier is situated near the railway station, just a 15-minute walk away. A detailed motor-ship timetable is given in the picture. Ticket for travel by one of these boats will cost you 12 euros per round trip or 6 euros for one way. If you are going on a tour, which we shall comment later, you need to pay for it separately. Useful tip: the shore along the route lies on the right side, so if you want to relish the beautiful views of the coast, you must take a seat on the right side.
Boat ride to Porto Venere from Levanto and Cinque Terre.
If you do not wish to walk to the pier in La Spezia, you can take a boat in one of the villages in Cinque Terre. Besides, you will get a unique opportunity to discover all the small coastal villages, during the trip. The ticket will cost you 35 euros and for that amount, you can enjoy unlimited travel for one day as well as a tour "around three islands". In case if the day of your tour falls on a holiday, then the trip will be more expensive, from 3 to 5 euros. Also while travelling on boat it is better to sit on the left side, so that you could explore the scenery of the coastline.

Boat is the most convenient mode of transport in Riomaggiore, as its port is situated in the south-eastern side, just a 3-minute walk away from the nearby railway station. You can make it this way: from the railway station, you need to go through a pedestrian tunnel, then go down to the shore, and then turn left and just follow the road signs.

As regards Levanto, boat ride to Porto Venere from here is the most time-consuming and the most expensive option. Therefore, tourists usually prefer to travel by train to get to Riomaggiore and changeover to water transport.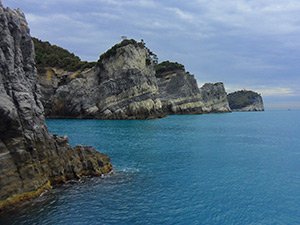 This is a very short (about 40 minutes), but very exciting journey, where you get to see three beautiful islands and famous caves, situated on them. On the webpage where you learn about this tour, you can know exactly the caves that are open to the public, the boat seats you must occupy to get better views and other useful tips.

The cost of the tour is 13 euros and this tour is already included in the total ticket fare (i.e. 35 euros, which is mentioned above).

More details...
3. Walking tour to Porto Venere.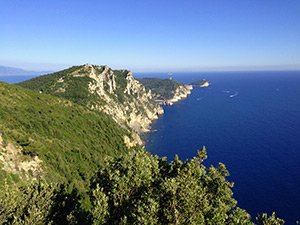 Visit our webpage "Walking tours" to learn about the important walking trails in Porto Venere and Cinque Terre. The map does not depict all the trails and roads, as there are many more and they are ideal for walking tour. At times, some trails may be closed, but signs are always displayed, with the help of which, you can take a detour around the closed section of a trail. You can get the latest map showing open and closed trails, in the tourist offices.

One of the most breath-taking trails connects Riomaggiore to Porto Venere, and you can walk on in any direction. It takes about 4 hours, and does not require any special equipment, except, of course, a pair of comfortable shoes. If you are already planning to visit other trails, you are advised to carry water, cap or hat, and trekking poles.
4. Travel to Porto Venere by car.
It is important to know that the road to Porto Venere is quite narrow and winding, so people with little experience of driving may feel insecure. In addition, there are no free parkings in the city, therefore we recommend you use the parkings in La Spezia.
Car can be rented on any of the following websites: Avis, Sixt, Hertz, Budget.

For details about journey by car and parking, please visit our webpage "Transport and parking".
How to reach Liguria:
First, you need to reach any of the surrounding towns: La Spezia, Monterosso, Levanto or Riomaggiore. You have many options to reach Liguria:
1. By train – You may look for "La Spezia Centrale" by using the search option on the official website of Trenitalia.
2. By car – You may use a navigator or a map, for example, Google Maps. Remember that parking is expensive in Porto Venere, and it is better to leave your car in La Spezia.
3. By air - The closest airports are in Genoa and Pisa, where many cheap low-cost airlines operate flights. You can easily find them online at Sky Scanner. In addition to Pisa and Genoa, you can also fly to Liguria through Parma, Milan and Bologna, and, from these cities, the journey to the coast by train will take just a couple of hours.

When you get to the coast, you can choose any one of the options described above to reach Porto Venere.
Text is printed from the website www.porto-venere.com
To top of page