Tourist attractions in Porto Venere
Porto Venere is a small fishing town situated not far from the world-famous National Park of Cinque Terre. It is a well-known town thanks to its stunning facades along the waterfront, the old castle, and the church that is situated on a rock in the sea, and other picturesque spots.
Every tourist, holidaying in Cinque Terre for more than one day, will surely pay a visit to this nice, serene town.

You need only one day to visit all the attractions in the city, only if you are staying nearby and on this day you do not wish to sunbathe on the beach or swim in the sea.

Search for best hotels deals in this zone.
1
Tour "Around Three Islands"
Cost: 12 euros.
It is a very exciting tour by boat around the three islands near Porto Venere. This tour is described in detail on our webpage "Around three islands tour", where you will come to know not only about the motor-ship schedule, but also useful tips, such as, on which side of the boat it is better to take a seat, when do you need to change your seat towards the bow of the boat and the like.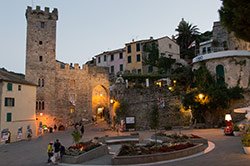 2
Town Gate and City Centre
The central street in the town of Porto Venere is located parallel to the beautiful waterfront, dotted with multi-coloured houses and connected through tunnels. This street is called Cappellini. Town gate, built in 1113, decorate the passageway to the street. Here, you find the main shops, restaurants, bars and other malls of the city, all in one place.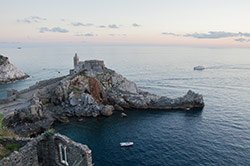 3
San Pietro Church (St. Peter)
The church was built on a small promontory in 1198. This is the first attraction that is seen by tourists, coming to the city by boat or while coming on foot from the side of Cinque Terre. It is fully open to tourists and thanks to restaurations is in a good shape.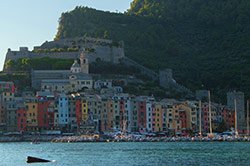 4
Doria Castle
Cost: 5 euros.
Opening hours: every day from 10.30 a.m. to 6.30 p.m., starting from 01 April 2023 to 02 November 2023.
It is a very exquisite castle, preserved down to this day from XII-XIV centuries. It is one of the major attractions in Porto Venere, with its terrace offering a beautiful view over the entire city and San Pietro Church.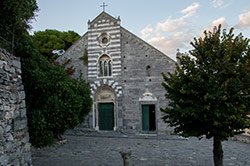 5
St. Lorenzo Church
This church was built between 1118 and 1130 during the reign of the Republic of Genoa. In recent times, it has been renovated quite often and so it has a beautiful look, though it is almost 1000 years old.
The celebration of White Madonna, the patroness of Porto Venere is held on 17th August. On this day, the city looks even more beautiful, especially at night, when festive lights are lit.
6
Caves in Porto Venere
There are 36 caves in the cliffs near Porto Venere and on the islands of Palmaria and Tino. You can know about them in detail, as you are going on the tour "around three islands". Arpaio cave is the largest among them; St. Peter's Church is connected to it by a trail with a scenic viewpoint in the descent. When you go on a boat ride, you will be able to look deep into some of the caves from the bow of the ship.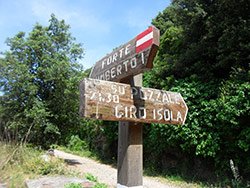 7
Palmaria Island and its trails
On our website, you will find a special page "Palmaria Island" dedicated to this island. All year round, seven days a week, every half an hour a boat sails away from Porto Venere, taking tourists and locals to the island. There is a large number of walking trails and small wild beaches.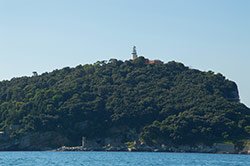 8
Tino Island
Tino Island is located just behind the Palmaria Island, much smaller than the latter. Today it is a military zone, so you can visit this place only on two days a year, i.e. on 13th September, on the occasion of the feast of St Venerio (a hermit, who lived on this island between the VI and VII centuries), and on the first Sunday after the feast. A monastery, built in the XI century, is situated atop the island.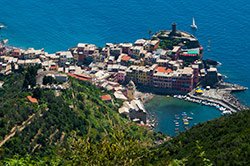 Cinque Terre
The National Park of Cinque Terre, which is very popular among tourists, deserves special attention. There are five small villages located near the sea on rock ledges. Don't miss to read through the most comprehensive website about this place "In Cinque Terre".
Text is printed from the website www.porto-venere.com
To top of page